I'm running a little sale over at Paperback Swap.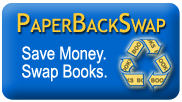 I'm offering 3 books for the price of 1 credit.
Sale runs through noon PT February 17th.
If you aren't already a member of Paperback Swap, I'd appreciate it if you signed up through one of my links. Don't forget to let me know who you are so I can friend you on the site.
Happy Shopping.